So, about the youth vote...
On how everyone's a vote-fluencer, the myth of youth voter apathy, and the stakes in 2020.
Welcome to gen yeet, Election Edition! 🇺🇸 This week we're discussing the good and the bad of social media vote-fluencing, the myth of youth apathy as a result of historically low turnout rates, and on the "the most important election of our lifetime" as a Gen Z-er.
---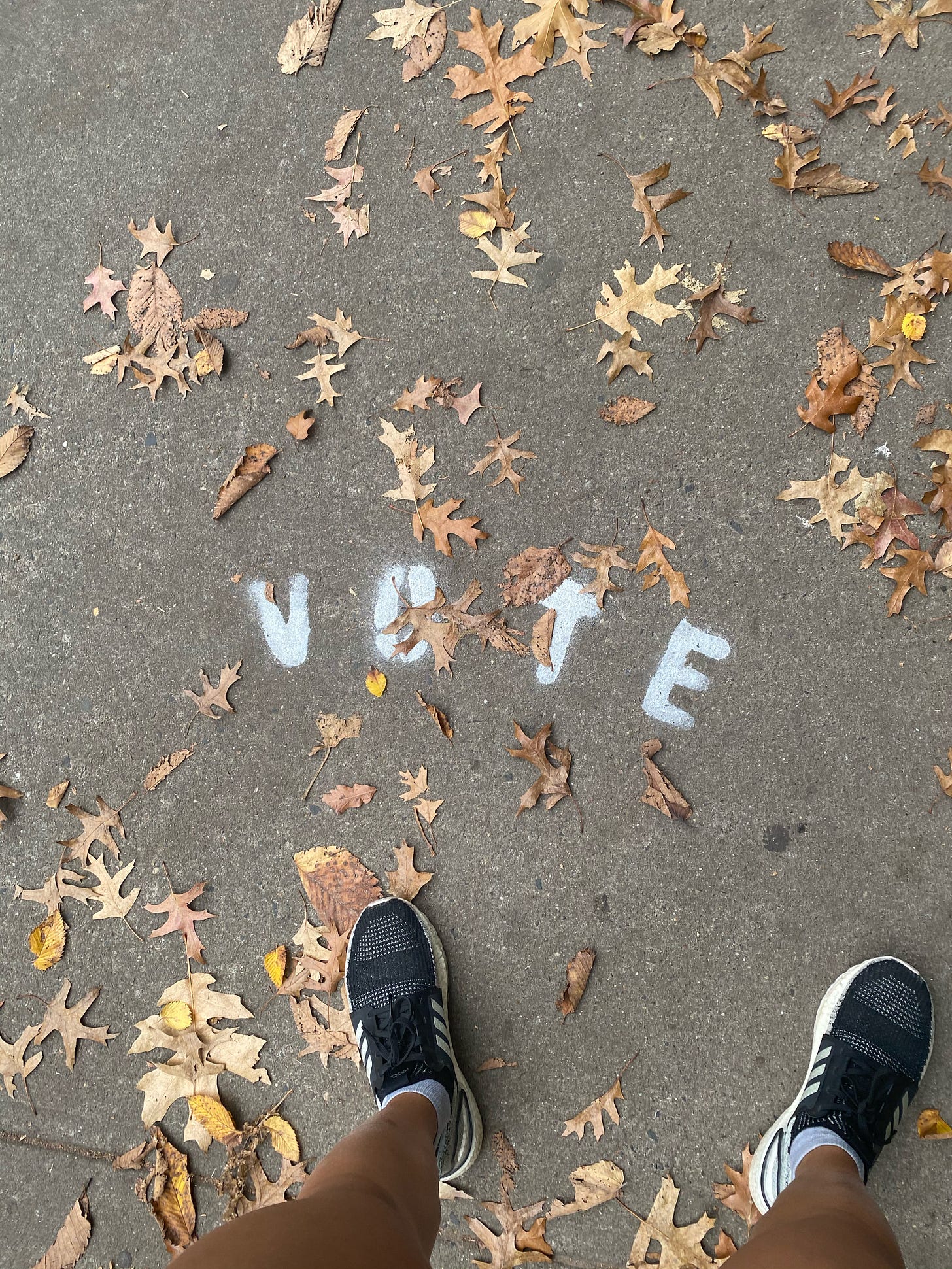 Everyone and everything within a 2-mile radius of my Brooklyn-based universe has spent the past month reminding me to vote. I walk past "VOTE" signs and stickers plastered on the sidewalk and construction plywood. Through e-mails and Facebook ads, Nike, Chipotle, Lyft, and Amazon urge me to check my registration and vote early if I can. On Instagram, a girl from my high school who I haven't seen in 8 years posts voting PSAs and state-by-state registration deadlines.
I've become slightly annoyed by the sheer force of this messaging in the past week, which I remind myself will end soon. The annoyance was a side effect of my ballot anxiety, as I was stuck wondering about its arrival, why I had to call my county registrar's office twice to request one, and if it'll be counted by Election Day.
In spite of my bad attitude, I'll admit that these vote-fluencers are performing a crucial public service, since most people probably need a reminder or, at the very least, a sense of urgency that Election Day will soon be upon us.
Only about 60 percent of the American electorate has voted in the past four elections, a dismal turnout rate compared to that of other established democracies. Research suggests that people are more likely to vote if it's what their peers, friends, and colleagues are doing — a habit that cements over time. The burden of knowing often falls on the individual, and vote-fluencers make it easier, one Instagram Story or Facebook post at a time.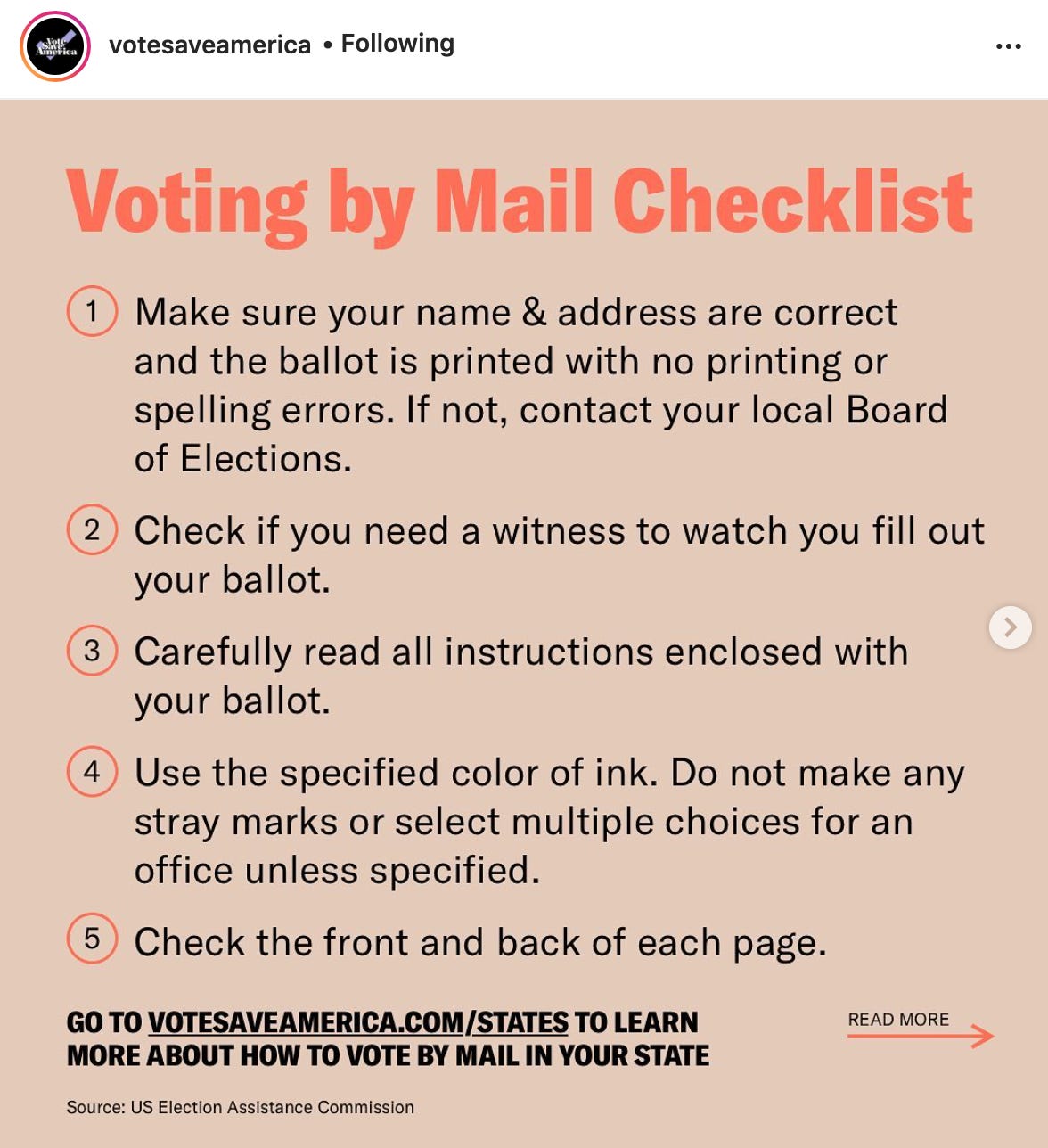 While celebrities are the traditional vote-fluencers, regular folks with micro-followings are being compelled to post about voting, and they're likely having a more direct impact. Thanks to the proliferation of social justice slideshows on Instagram, I've seen many of my mutuals re-share voting PSAs from accounts like @votesaveamerica, @votedotorg, or @whenweallvote.
As with most things online, there is the potential for misinformation (even content that is well-intentioned) to spread. A now-deleted post on the legality of ballot photos from @voting.school, which has about 2,000 followers, blew up on my Instagram feed, but its account moderators soon removed it, after realizing how ballot laws varied state-by-state. America, proving itself to be federalist as fuck!
I am, though, doubtful of how far individual and corporate vote-fluencing efforts can overcome the many bureaucratic obstacles of casting a ballot. Is this online information reaching the voters who need it? Is it contained within our socio-political echo chambers? Should we also be advocating for voting reform to make this process easier?
"It drives me nuts when I hear people say, 'It's not that hard to go vote',' or 'It's not that hard to register,'" an American University professor of government told the New York Times. "Actually, the act of casting a ballot in an election is incredibly complex!"
Federal and state governments do a poor and haphazard job of ensuring that every citizen — regardless of age, race, or socioeconomic standing — can exercise their right to vote leading up to or on Election Day.
Voting is not compulsory in the U.S., nor is voter registration automatic or simple. There isn't a federal holiday for citizens to take time off from work to vote, and thanks to a law passed by Congress in the 19th century, Election Day always falls on a Tuesday in November. Sure, our corporate overlords have stepped in, effectively branding themselves as stewards of democracy, although if you scrutinized some companies' Election Day policies under a microscope, they're usually not as flexible as advertised.
That means, at a federal level, workers and students don't have mandated time off (although laws for voting leave do vary by state, because again, we're federalist as fuck).
All of this has a significant impact on young voters, who have historically been blamed for their apathy or ideological disengagement towards the political process. But neither are accurate diagnoses for the bleak 46 percent turnout rate among voters ages 18-29. It's a pretty bleak number, but one that can be improved by reducing systemic barriers and implementing same-day voter registration.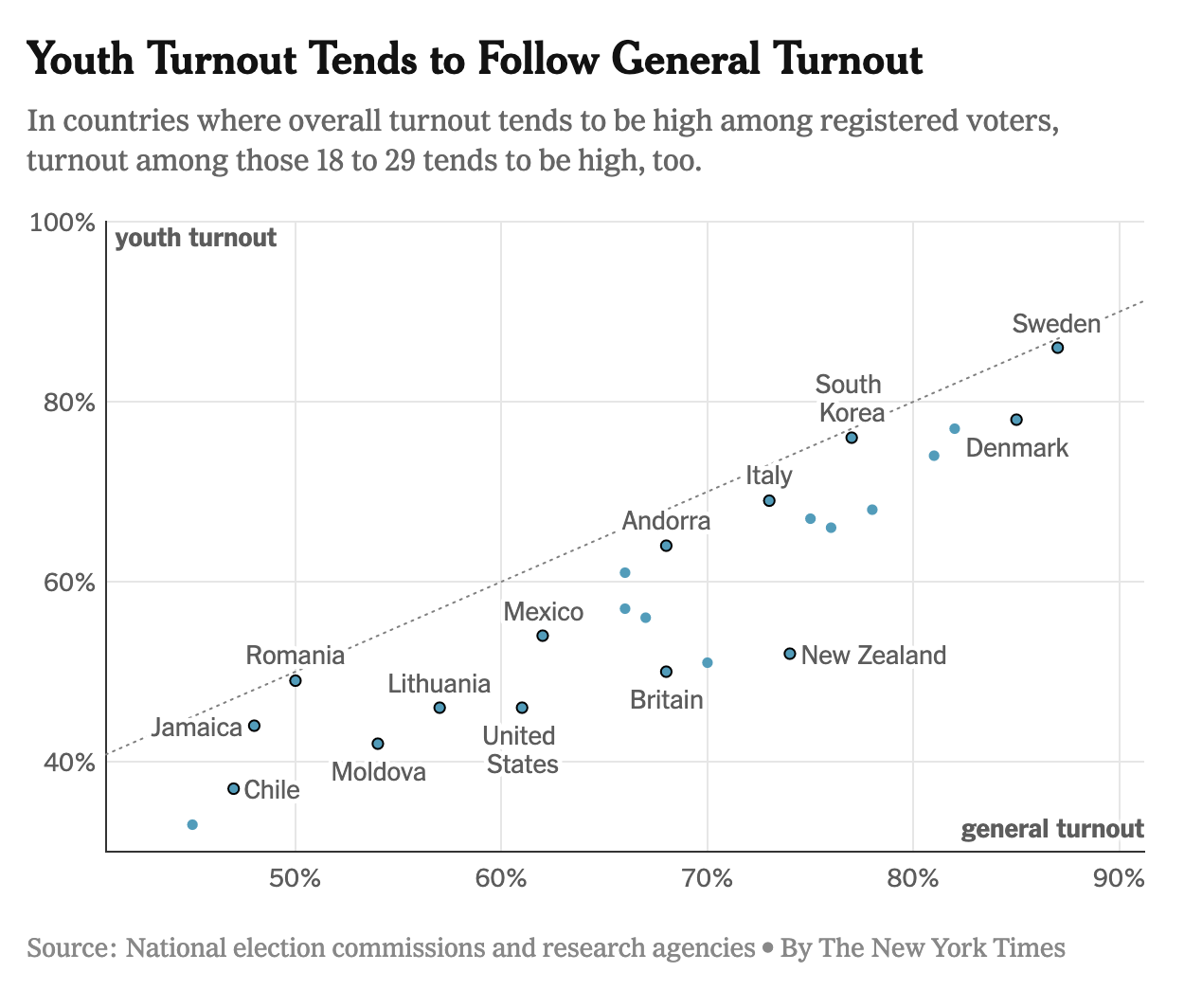 [Recommended reading: "Why don't young people vote, and what can be done about it?" from the New York Times]
Vox's Karen Turner interviewed three 20-somethings on the logistical challenges of voting, highlighting how young people are more likely to live in a different location from where they grew up and have unstable work and class schedules. This impacts where they register to vote and whether they're able to make it to the polls by Election Day.
"I didn't even know what my school address was going to be until a couple weeks ago because I was supposed to be studying abroad and that got canceled, so they were waiting to see what opened up before putting me into a new dorm," one college student said. "It wasn't anybody else's fault, it was just the logistical nightmares that Covid has caused."
Same-day registration could've reduced these complications, and in some cases, shift election results entirely. A study published in a 2019 Times op-ed found that the impact of same-day registration on turnout is larger for young adults than it is for any other age group, with major consequences as a result: If Michigan had had same-day registration in 2016, according to the analysis, Hillary Clinton would have won the state. 
Early voting data has found that there's already strong youth turnout in states like Florida, Texas, and North Carolina, which could be crucial in battleground states. Even in red states, recent polling suggests young voters tend to prefer Biden over Trump. The youth vote matters, although it historically isn't reliable.
Already, though, there are op-eds arguing that "if Trump's win, it's [millennials' and Zoomers'] fault," that Gen Z must exercise their right to vote to protect their right to protest, and that "high youth turnout would doom Trump." The insinuation of these headlines? The future of a functional democracy lies in the hands of Gen Z and millennial voters.
Sure, young people might be decisive voters but I'll do well to remind you that blaming the system, not the individual is en vogue in 2020. Maybe consider the role of the electoral college — and how it leads candidates to prioritize the needs of certain regional voters over others — before throwing rocks at the kids.
[Recommended reading: "Stop blaming young voters for not turning out for Sanders," from Ibram X. Kendi in The Atlantic]
On "the most important election of our lifetime"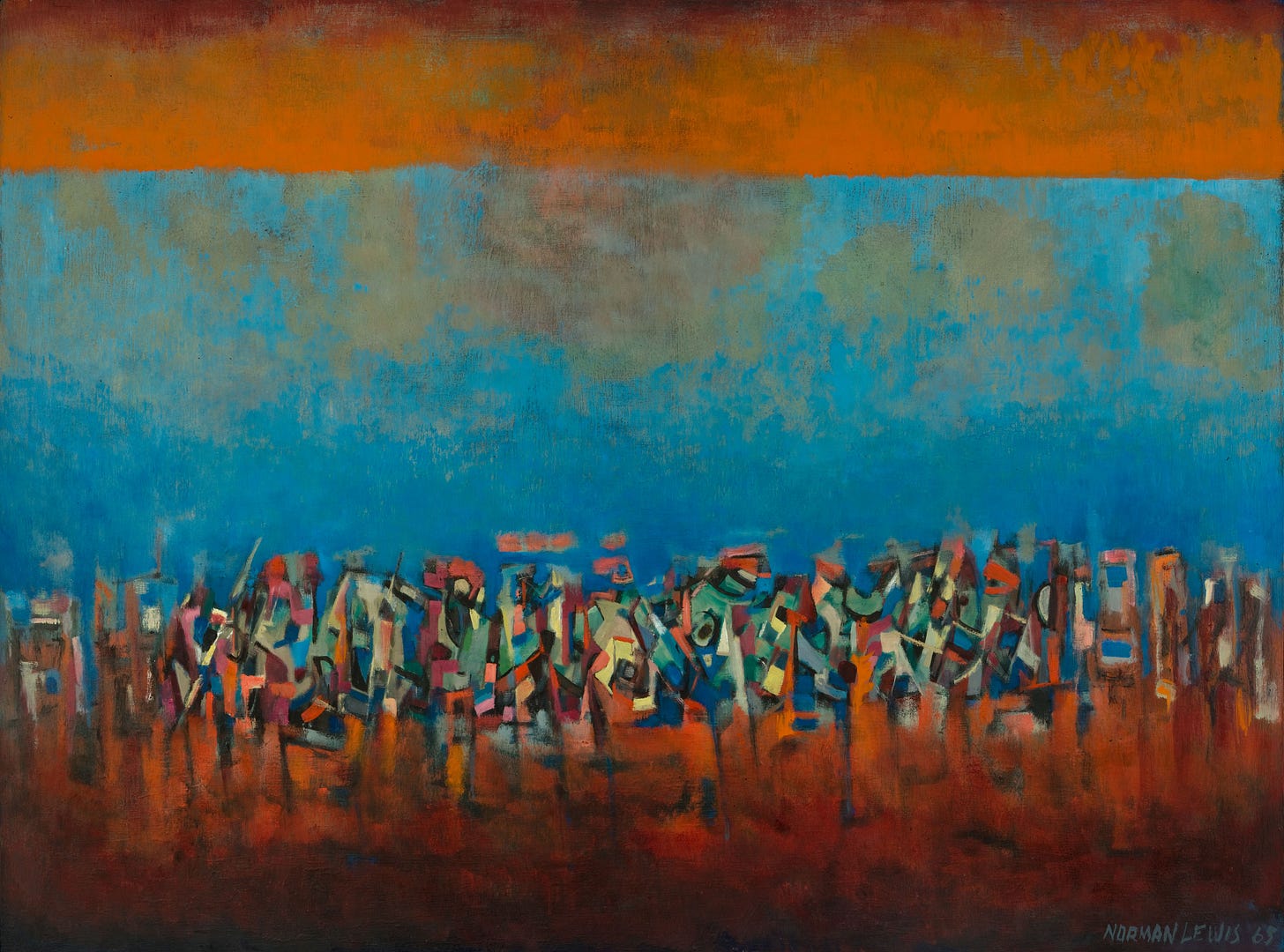 Title Unknown (March on Washington), by Norman Lewis
All presidential elections seem important, and every four years or so, the current cycle is branded as "the most important election of our lifetime" to get voters to the polls. Vox's Ezra Klein argued that for him, it's the 2000 election. But the caveat is, Klein said we can only determine an election's political significance in hindsight.
I get that, but I'd argue that the 2016 presidential election was one of the key events that politicized Generation Z (even those not old enough to vote) and I'll rank it alongside the March for Our Lives movement in 2018, the coronavirus crisis, and the Black Lives Matter protests this year. I was politically conscious before the 2016 election, but only vaguely. I was certainly not as invigorated as the teens are nowadays, who are actively phone-banking for candidates like Sen. Ed Markey or creating Instagram accounts to support their favored candidate.
My college memories are fickle, but I frequently return to this one moment as a symbolic calm before the storm. A few nights before Donald Trump was elected president in 2016, I was sitting on a friend's twin-sized mattress in USC's Fluor Tower, listening to the echoes of a distant cable news livestream.
"This nightmare is almost over," my friend said, despite it being the first election we could both vote in. I nodded and responded thoughtlessly like the smooth-brained 18-year-old that I was, something along the lines of: "The news cycle has been so crazy." "But if he wins," she continued (and in 2016, the masculine pronoun carried a cartoonishly villainous weight to it), "the nightmare will only begin."
I include that brief snapshot from 2016 as a reminder of how the electoral stakes once felt so low — even for me as a first-time voter. I can't imagine how any 18-year-old could think that in 2020.
Of course, my personal feeling stemmed from a position of privilege and comfort. There was a sense of stability that the democratic systems in place were unshakable and righteous, and that all would be alright in the end. Since Election Night, though, the feeling I once had of unfettered faith in America's governance system has yet to return — and I'm sure I'm not the only one.
Recent research from the University of Cambridge found that young people across the world are more dissatisfied with the performance of democracy than previous generations at the same stage of life.
The data was collected from nearly 5 million respondents in over 160 countries between 1973 and 2020, and these attitudes are unsurprising, according to the researchers, in light of declining job and housing security and overall quality of life. Young Americans are pessimistic, and the Cambridge research suggested many are drawn to populist leaders from both the left and right.
The 2020 election might be the most important in our lifetime, as it could influence policy and political decisions that shape America's Covid crisis in 2021 and beyond. If youth turnout goes through the roof this cycle, that's not a sure sign that young people are wholly energized by the candidates. Instead, they are moved by the gravitas of the moment — to vote and to continue organizing.
"In asking people to vote, I've had to affirm that it doesn't mean you have to fully accept everything Biden says beyond the election," a 19-year-old organizer told POLITICO. "I'm telling people not to take this election as the final push. I just know that this is going to happen, and then we're going to have to keep pushing."
[Recommended reading: "Politicians are blowing chances to connect with young voters like me" from Deanna Schwartz in Boston Globe]
some good stuff, according to me
Thinking about:
Reading:
Finished Donald Ray Pollock's The Devil All The Time; starting Ian Reid's I'm Thinking of Ending Things
Listening:
If you're feeling generous this Scorpio season and wish to support my free work, please Paypal or Venmo me @nguyenterry. Or, you can spare me a follow on Instagram. As always, thank you for reading!
t.n.