ghoulish memes for 2020 teens
sponsored by mike bloomberg — because what isn't?
Welcome to gen yeet. I'm writing part of this dispatch on the 2 train into Brooklyn, praying that the man across from me (who's nauseously clinging onto a subway pole at 4 p.m.) doesn't unleash a torrent of vomit.
When can I opt out of this timeline? Parasite won Best Picture at the Oscars (possibly the peak cultural event of 2020) and the Tokyo Summer Olympics are five months away (too long!), so I'd like to formally request the start of my Year of Rest and Relaxation now. I regret to inform you that I've only consciously participated in this cursed simulation for 4-ish years, yet I'm ready to mail off my absentee ballot, set a timer for November 3, and enter a deep year-long sleep (which will pick up after the general election).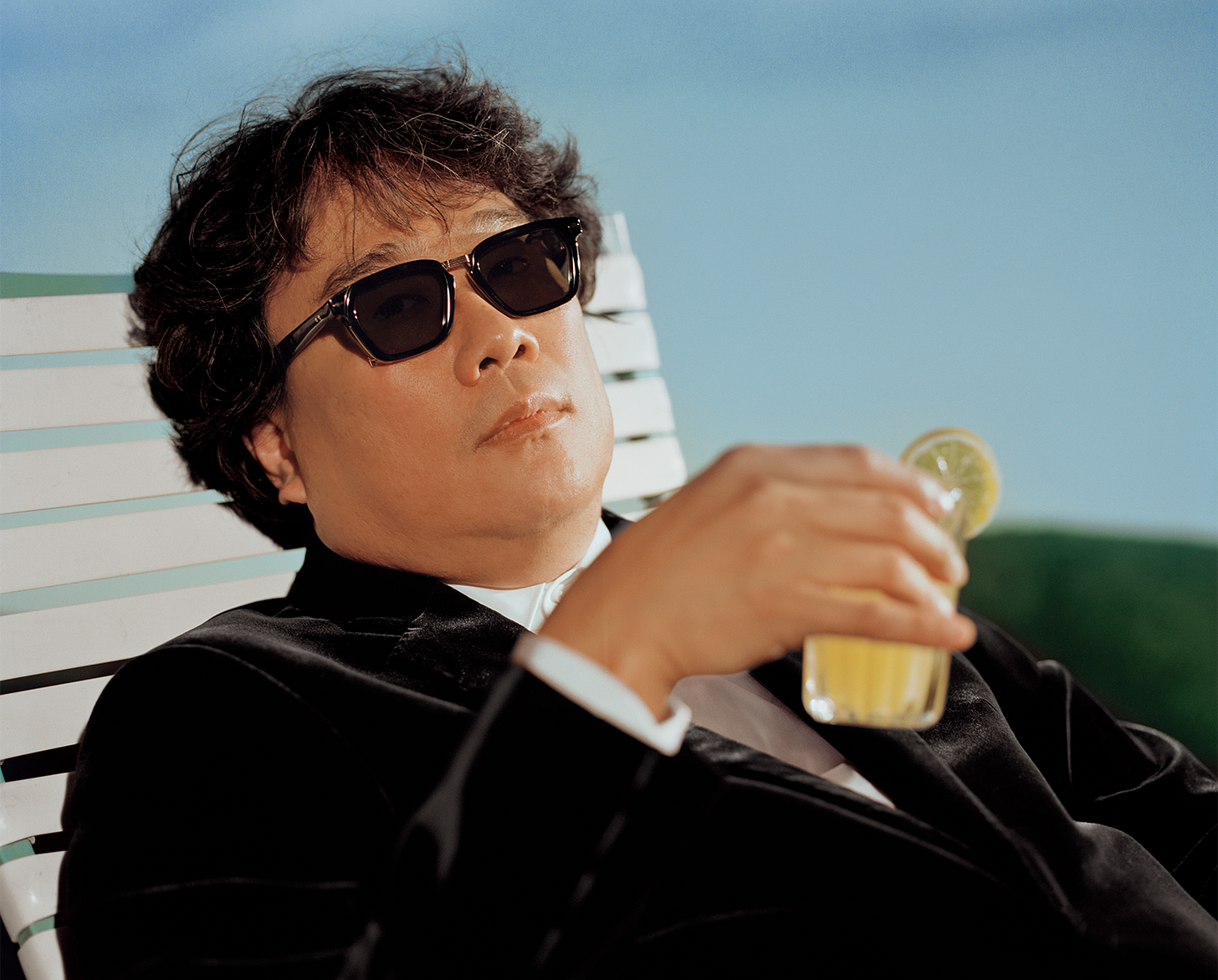 (I just really wanted to use a photo of Bong Joon-ho in this newsletter.)
Clearly, I can't do that. So here I am in your inbox, writing about Mike Bloomberg's presidential campaign, how my TikTok algorithm figured out I'm Asian (and other algorithmic qualms), and my thoughts watching Twin Peaks 30 years after its release.
Influence me, Michael
Who would've expected Michael Bloomberg, a ghoulish 78-year-old man, to be one of the first presidential candidates to rely on an army of meme influencers to boost his campaign into youthful relevance? (To be fair, most of the candidates, with the exception of baby-faced Buttigieg, are on the ghoulish age spectrum.)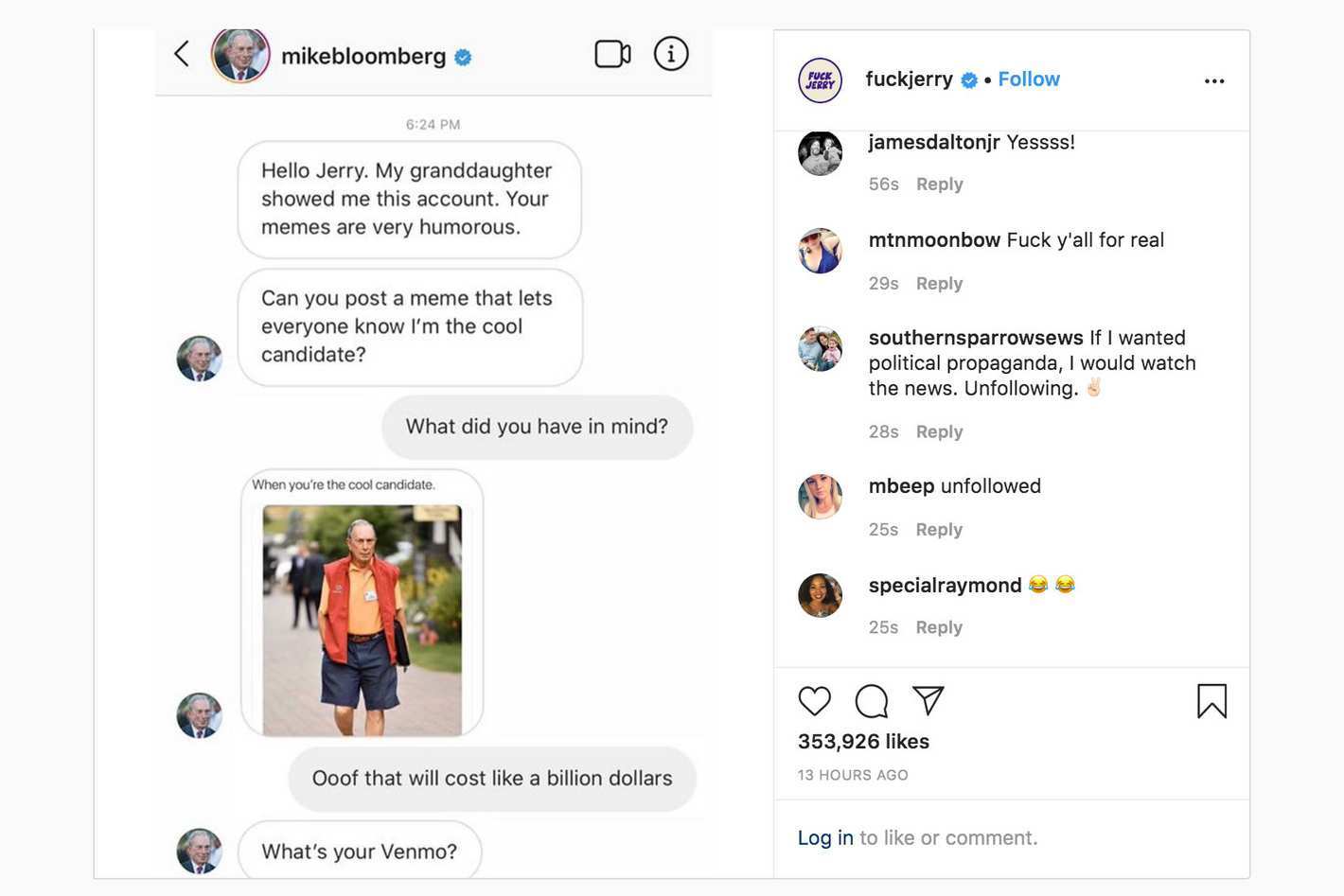 Days after his campaign strategy became national news, Facebook declared that it won't be regulating these influencer-supported ads as it does political ads on Facebook and Instagram. (Political ads appear on the Facebook Ad Library, a publicly available tool that tracks how much money a politician, group, or business spends on Facebook ads.)
"Branded content is different from advertising, but in either case we believe it's important people know when they're seeing paid content on our platforms," a Facebook spokesperson told The Verge. "We're allowing US-based political candidates to work with creators to run this content, provided the political candidates are authorized and the creators disclose any paid partnerships through our branded content tools."
In May 2019, I wrote about the potential for the most ambitious crossover to occur in politics: influencers and presidential campaigns, pegged to a Yahoo News report by Brittany Shepherd on how 2020 could be the year of the influencer. I figured it was only a matter of time before some campaign aide thought paying influencers en masse would be a viable campaign strategy to reach younger voters' eyeballs — and it is!
Sure, you can argue that this type of advertising is similar to running TV spots, receiving a celebrity endorsement, or blasting ads on Facebook, Instagram, and Youtube. The mechanisms behind influencer marketing, however, are much more personal and obfuscatory, which makes Facebook's decision to exclude these ads from its traditional regulations very concerning.
As Buzzfeed News' Katie Notopoulos points out: "Allowing political candidates to use influencer marketing on Instagram requires a lot of trust in the way that influencer marketing works — and that system has always been completely broken. Influencer marketing relies on confusing the average user — that's what makes it effective. The clearest version is when an influencer puts #ad or #sponsored in the caption, which is very easy to miss, but there are a billion less obvious variations."
The Federal Trade Commission has established clear guidelines for influencers and celebrities to disclose their relationships with brands — something that hasn't really been enforced. When it comes to political ads, Notopoulos reports that those fall squarely in the realm of the Federal Election Commission, a regulatory body that has yet to establish any guidelines tailored to Instagram influencers.
Allow me to sound slightly alarmist here, but can you imagine a reality where political ads are shoved down our throats in the form of memes and cynical #sponcon images? Bloomberg's campaign philosophy is centered on challenging Trump head-to-head (competing SuperBowl ads, diss-y tweets, edited anti-Trump videos); that requires bending the norms of social media outreach to effectively reach voters along the same vein that Trump operates in.
It's a dangerously tricky line to walk, and it'll take several presidential cycles before we can quantify the effects of politically-motivated influencer marketing on people, especially younger digital-native voters. Until then, can I just say I hate it?
How TikTok figured out I was Asian
I'm careful not to like videos when I'm scrolling through TikTok. I selfishly wanted the platform's algorithm to deliver me the most viral and engaging content on my For You page, without revealing to it who I really am. After some careless liking on my behalf, the algorithm (unsurprisingly) figured out that I'm Asian — more specifically, Vietnamese.
A brief description of my For You page: something Asian-related or by an Asian TikTok-er, a New York-specific video, something hugely viral (1M+ likes), occasional ThirstTok (thirst-trap video), and cat content. What makes TikTok so addicting is that it's solely fueled by an algorithm that predicts your interests, which inherently affects the nature of content presented to you. That's how I found myself stuck in the corner of Asian TikTok, scrolling through videos that have less than 10,000 likes.
TikTok hasn't revealed how its algorithm works, which has prompted lots of speculation and theories to explain its quirks. However, some users of color have claimed that the For You page appears to be racially biased in that it favors white creators and faces. As Mashable reports, "Creators of color [say they] have a harder time gaming the algorithm for engagement, which limits their ability to push for better representation."
For creators looking to get eyeballs on their videos, it's necessary to capitalize on certain hashtags and challenges, which has created a copy-cat ecosystem of video trends. (In some cases, that's led to the proliferation of digital blackface on the platform.) It also begs the question: Who gets to go viral on TikTok?
As the NYT's Taylor Lorenz writes on the original creator of the viral Renegade dance, "To be robbed of credit on TikTok is to be robbed of real opportunities. In 2020, virality means income … That, in turn, opens the door to brand deals, media opportunities and, most important for Jalaiah, introductions to those in the professional dance and choreography community." While Jalaiah Harmon wasn't the first person to post her dance on TikTok (she uploaded it on Funimate and Instagram), Lorenz's article points out how some of TikTok's most popular dances originated from "young black creators on myriad smaller apps."
It's an important question that everyone should consider, especially talent agencies, news media, and brands: Are the career-boosting opportunities that TikTok affords primarily being dished out to good-looking, young, white TikTokers? Are entertainment companies and businesses actively scoping out talent that don't fall into this demographic norm? Do they receive the same type of press? This isn't just a TikTok problem: Black creators have talked about how they've been treated differently or passed over for opportunities within influencer spaces.
¯\_(ツ)_/¯ Some good media, according to me ¯\_(ツ)_/¯
WATCHING // TWIN PEAKS: A '90s kid's foray into one of the best shows of the '90s. I was born in 1998, which means I have zero insightful knowledge into any pop culture prior to 2010. Twin Peaks was one of those shows I've heard of but never considered delving into, well, until now. I'm obsessed with the first two seasons' kooky absurdism, the never-ending trail of mysteries that spawned from Laura Palmer's murder, and the characters' quirky yet likable characteristics. I'm steadily making my way through its revival season (which aired in 2017), but there's a hygge-like nostalgic element to watching a '90s TV show. The show's stretched-out storytelling and experimental elements paved the way for modern television. It was refreshing to watch Twin Peaks in 2020, during a time when viewers are typically subjected to exactingly condensed plot-lines and perennial Twitter discourse.
READING // THE PASSION ACCORDING TO G.H.: Have you ever come across a book that is the antithesis of a subway book (besides THE POWER BROKER)? The book club I'm a part of selected this 200-page Portuguese novella for this month's read and, whew, it's a hard one!

I love to inhale every syllable of Heather Havrilesky's Ask Polly column whenever I need an existential pick-me-up.

LISTENING // THE SHADOWS OF UTOPIA: I've somehow devolved into that psychopathic person who listens to history podcasts at the gym. I'm endlessly fascinated by Southeast Asian history, and having found no adequate podcast on the history of Vietnam (that excludes the Vietnam War), I came across a podcast that delves into Cambodia's history leading up to the Khmer Rouge, which also covers French colonialism in Indochina.
Here's my February playlist. Enjoy!
 -t.n.